In July 2018, the Wall Street Journal published an article that illustrates a problem faced by independent sellers who wish to make the Amazon Marketplace their main platform for online sales and brand promotion.
While business publications such as the WSJ constantly run stories about how Amazon has turned into a bazaar where shoppers can find counterfeit versions of Prada purses and Nike basketball shoes, the aforementioned article was different in the sense that it focused on how small brands are being targeted with greater frequency.
The aforementioned WSJ article serves as a cautionary tale for Amazon merchants who believe that the low profile of their brands and products will not attract the attention of counterfeiters and malicious sellers. If you think that only brands such as Apple, Nike and Gucci should worry about being targeted by counterfeiters, you are not the only one; this false sense of security is prevalent among many independent sellers on the third-party Amazon Marketplace.
Fraudulent sellers are very active on Amazon, and this issue was made clear by a board game inventor interviewed by the WSJ. Rob Ridgeway explained that he was puzzled to find a listing offering his game for $5 less on Amazon, so he decided to purchase a copy from the seller based in Ukraine, but he never received anything because even the delivery tracking number was a fake.
How to Protect Your Brand on Amazon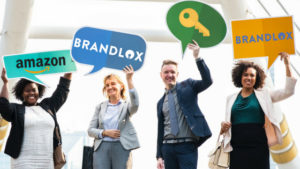 As you can imagine, fraudulent sellers can be disastrous for sellers who are trying to grow their brands on Amazon, particularly when shoppers start getting fake products and leave negative reviews on the product listing page. There are four ways you can protect your brand:
Brand Registry

This program was rolled out by Amazon a few years ago, and it mostly helps to protect intellectual property such as your original photographs, logos, slogans, product descriptions, and advertising copy.

You need to have a registered trademark or at least show proof that your application with the United States Patent and Trademark Office is pending; moreover, the Universal Product Codes for your items must have been registered with GS-1, which means that UPCs obtained from third-party resellers may not work.

Brand Gating

This Amazon program was introduced after Brand Registry, and it is described as the most effective method to keep your Amazon Standard Identification Numbers (ASINs) from getting hijacked by fraudulent sellers.

The only problem with Brand Gating is that modest brands find it notoriously difficult to get approval. A company such as Microsoft, for example, will have no problems getting approved, but this is not the case for independent sellers who are just getting started with brand promotion.

ASIN Monitoring

Quite a few Amazon sellers do not realize that their ASINs have been hijacked until shoppers who have been duped start leaving negative reviews. This issue is more prevalent among sellers who manage 10 or more ASINs. The best method for watching your ASINs is to subscribe to Brandlox, a service that keeps an eye on your Amazon retail activity and alerts you when rogue sellers list your ASINs without permission.

Test Purchases and Cease-and-Desist Notices

Brandlox also allows you to generate and send legal notices to rogue sellers and copyright infringers; furthermore, a record of communication is created so that you can forward the digital trail to Amazon Seller Support. Test purchases can also be used to trap counterfeiters and report them to the Amazon legal department for the purpose of getting them kicked out of the marketplace.
Interested in protecting your brand on Amazon? Learn more about Brandlox and how it can protect your ASINs; contact one of our e-commerce consultants today. Call 1-866-848-6072.