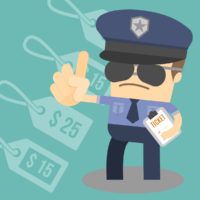 When it comes to protecting brands and bottom lines from the dangers of Amazon counterfeiters, business owners are pretty much on their own; such is the gist of an investigative report published by the Wall Street Journal in October 2017. While the article mostly focused on luxury brands and their struggles with Amazon to agree on a strategy to keep counterfeiters at bay, this is a problem that affects not just the the Louis Vuittons, Pradas and Guccis of the world.
On the surface, it seems as if though Amazon is making a concerted effort to attract luxury fashion brands; to this effect, the online retail giant has been sponsoring runway shows and trying to partner with up-and-coming designers. The company clearly wants to offer high-end products on its various platforms, including the third-party marketplace, because it seems as if this is the last frontier for a company that already offers everything.
The Amazon-Nike Deal
While Amazon has promised to do more to stop counterfeiters on its sales channels, there is another side of the coin: a recent deal struck with Nike pretty much lets the iconic sporting goods brand conduct its own investigations on counterfeiting. This seems to be the status quo at Amazon; as long as sellers are policing their products and bringing evidence of knockoff artists plying their malicious trader, the company will actively boot the counterfeiters.
Monitoring Amazon Sales Activity
The first step in detecting possible counterfeiting activity is to take a close look at sales. If you are a manufacturer or exclusive distributor with only a few products, you can do this on your own by checking your Amazon sales analytics. If you have registered 10 or more products with their respective Amazon Standard Identification Numbers (ASINs), you will need a solution such as Brandlox, a subscription-based monitoring program that provides real-time notification of sales activity.
If you really wish to protect your brand and products, you should only work with third-party sellers you have thoroughly scrutinized. When a Brandlox notification shows an unauthorized seller suddenly jumping on board with one of your ASINs, this may be a sign that counterfeiters may have boosted the profile of your products. You can deal with the unauthorized seller by means of sending a cease-and-desist letter and notifying Amazon; Brandlox allows you to generate these legal notices and track their progress.
Gathering Evidence Against Counterfeiters
You will want to search the Amazon Marketplace for similar instances of your products; you should try search queries that include language used in your product description since this is a common practice among counterfeiters.
Once you have found culprits, the next step consists of gathering evidence by means of a test purchase, which can be initiated, documented and tracked through Brandlox. Some sellers believe that Amazon's Brand Registry program will stop counterfeiting, but in reality it mostly protects trademarks and sales language; physical counterfeiting has to be brought to the attention of Amazon with successful test purchases-
After you send documented evidence of the test purchase and submit statements, Amazon will block the counterfeiter from the marketplace and all possible retail channels. The company will keep track of credentials and financial information in case the counterfeiter attempts to return.
To learn more about the Brandlox service, and amazing features, call 866-848-6072 today!