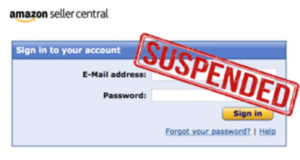 There was a time when Amazon account suspensions only made headlines when hackers managed to gain control of shoppers' accounts to make purchases without their knowledge. Now that Amazon has grown to become the "everything store" thanks to its third-party marketplace, suspended merchant accounts have become topics worthy of media coverage; to this effect, consider the following incident reported by This is Money, a British business news website, in January 2018:
A couple from Buckinghamshire opened an Amazon Marketplace account in 2003 for the purpose of selling textbooks. Nearly 15 years after transacting without issue, Colin and Maryam Beckley were surprised to learn that their seller account was suspended, effectively leaving them with an inventory of 7,000 books without a backup e-commerce platform to sell from.
The Beckleys explained that Amazon was unresponsive for many weeks. When they finally heard from the e-commerce giant, they were simply told that their account had been suspended due to an issue related to the verification process. More ominously, the email from Amazon stated that the decision was final and did not offer recourse to appeal.
Arbitrary Amazon Suspensions
Amazon sellers whose accounts have been suspended are likely familiar with the plight of the Beckleys. The company is notorious for suspending and shutting down accounts in an arbitrary fashion and with very little in the way of explanations.
Although the Beckleys' account was eventually reactivated, it took them nearly six months to clear the issue with Amazon Seller Support. In their particular case, the problem was that Amazon had misplaced documents that the Beckleys has previously sent to show that they were complying with laws in the United Kingdom, meaning that they were properly registered as a business and reporting Value-Added Tax transactions to their regional revenue collection authority.
Reasons Amazon Seller Accounts Get Suspended
In the Beckley's case, providing documentation was key to getting their account reinstated. Lack of verification is just one of the various reasons Amazon cites when suspending seller accounts. Here are some other reasons:
Duplicate accounts
Excessive negative feedback
Copyright infringement
False information provided in the product description
Inauthentic or counterfeit products
As you can imagine, some of the violations listed above can actually be prompted by the malicious actions of third parties; for example, if you have introduced new and original ASINs to the marketplace, you need to watch out for a sudden and unexplained flurry of negative reviews. This may be a sign that your ASIN has been hijacked by a rogue seller who is delivering inferior products.
Sellers who generate 10 or more ASINs for new products that have not been previously listed on the Amazon Marketplace need to watch for ASIN hijackers who may cause an account suspension through their underhanded actions. A Brandlox subscription actively monitoring your ASINs could be exactly what you need to prevent your Amazon seller account from getting suspended. Brandlox not only monitors your ASINs but also creates an electronic trail that can help you with lifting the suspension.
Contact one of our e-commerce consultants today and learn more about what Brandlox can do for your Amazon business.